UOTech.co discusses some tech tips for working from anywhere
I'm Shreena Bindra, one of the co.Founders and the Chief Operating Office at UOTech.co chief operations officer at UOTech.co. And I'm here with Michael Maser, one of the co.Founders and the Chief Technology Office at UOTech.co. We are going to review the top tech tips we've put together for working from anywhere.
First there's the hardware to support you to work from anywhere. We tried to think of the essentials on varying budgets; things to consider and what you will want to sacrifice or add within your budget. Everything we list will vary in usefulness based on what type of work you do and what you are trying to accomplish, but we are available for questions or custom recommendations.
We've found having multiple monitors to be very helpful.  If you're doing research, working in spreadsheets, have a video conference going on, or are collaborating with your team, if possible it is great to be able to see that all at once spread across your screens.  If you have other devices, like an iPad, it can actually be connected to your computer and used as a second monitor.
You'll want to have a powerful computer.  If you are in the market for getting a new computer, we recommend having one with a Solid State Drive, at least a 4-core processor, at least 8 GB of RAM, at least Full HD screen resolution and at least 512 GB hard drive space.
A multiport travel adapter is really useful, and that picture is not to scale. They should fit in the palm of your hand and have ports for any type of cable you may need.  They make it so you can hook up your computer to various other devices.  All new MacBooks only come with USB-C ports, so if you want to connect an external monitor without using a dock, or if you need to give a presentation in a new setting, they come in really handy.  That one pictured is the Dell DA300 and it works with pc and macs.
Then there is a single connection dock.  This allows you to set everything up once, the way you like it, with your monitors, speakers, external keyboard and mouse, you name it.  Then all you need to do is plug your laptop in and you are ready to take on your day, full swing.
If you are video conferencing a lot or need to record yourself, maybe with prospective clients or current clients, you'll want to have a good webcam.  The built-in webcams on laptops have notoriously poorer quality than what you will get from having a dedicated external webcam.  There was a high demand on webcams a couple of months ago and orders were well backed up, but that is starting to clear now.  Another option is if you have a newer model smartphone.  They have phenomenal cameras.  For instance the iPhone 11 Pro pictured here can record in 4k.
For public speakers, you may want to use a quality microphone.  The costs of all these gadgets can surely add up, so you'll certainly want to pick and choose what you value.  The microphone pictured here is what I'm speaking on today and it was reasonably priced.  It is the  Samson G-Track Pro.  We host a lot of webinars, trainings, and have plans to start doing podcasts, so this was something we chose to purchase.  It's neat because it has 3 settings where it can pick up just the speaker it is pointed out and no background noise, just the speakers in an immediate radius (so if you are interviewing someone for a podcast), or picking up an entire room along with the ambient noises is the 3rd setting.
I would say that having a good pair of Bluetooth headphones that noise cancel (and can toggle noise canceling on or off) and have a good built in speaker, has been invaluable with remote work. It is really nice to be able to get up from your chair while on a call or just walk around, but not sound like you've walked away from your microphone.  Between all our team members we've had the opportunity to test out a number of different models and brands, from Bose, to Beats, to AirPods.  The 2 here, Beats and AirPods, are our favorites. Noise canceling is the closest we're ever going to get to having a mute button for our surroundings.  Sometimes I'll have them on without sound, but with noise canceling on, just so i can have peace and quiet when I need to hyper focus.  With the Beats headphones, the grey ones on the top right, they have great sound and the best part was that you could walk around really far away from the laptop or phone they are connected to.  I actually could walk downstairs 3 stories to my basement or walk outside when my computer was inside and did not lose quality or connection with the person I was talking to.  The AirPods don't have that same range as the beats, but are cool because they have this transparency mode on the complete opposite side of the spectrum where it's like you can hear everything around you like you are not wearing headphones at all, but can also hear the person on the other side of the phone or computer.  We found that other headphones vary significantly where the sound for the wearer may be really great, but the microphone would sometimes pick up background noise more than the person speaking.  So these 2 have been our favorites by far.  We actually did an entire 40 minute podcast with the AirPods before we got the microphone and the sound quality was great.
I don't have one pictured here, but having a battery backup is a great plan.  They may look like those power strips but in a big shape about the size of a shoebox and have multiple outlets with a surge protector and battery portion. It's an especially good idea to plug your modem into a battery.  If there are power outages isolated to your home, your internet won't go down while the battery lasts.
For reliable WiFi anywhere in the home, consider investing in a mesh WiFi router system.  The one pictured here is the Eero, and its what we use in our homes.  It makes a huge difference.  It essentially creates a mesh blanket of wifi around your home that is stable and reliable and has a much better signal than a single point router.
If you need to print documents, especially with confidential information, make sure you have a way to securely destroy those documents too.  We like having a micro-cut shredder like this one.  You can pick them up from Costco and they don't take up a lot of space because the cuts are denser. 
If you need to print, I have 2 types of print options pictured here.  Both ink (the quality of ink has gone up tremendously over the years and the costs have gone down significantly).The one on top is the Epson EcoTank.  It doesn't use cartridges in the traditional way.  Instead it uses a big ink tank. That way, it doesn't have as much waste and it is more efficient. Then there's HP InstaInk which is a subscription service so you don't run out of ink.
There is also Laser, but the costs of replacing the toner can get prohibitively expensive, sometimes more than the cost of the printer.
Having a convertible standing desk can be a game changer.  You can sit, stand, or anything in between. Don't have one or can't afford one? Make one by propping screens or a laptop up (I've seen people use everything from side tables to ironing boards as standing desks.  As long as you're comfortable, your equipment is stable, and your forearms are at a good angle, you can be creative with it.  We actually built all our standing desks in our office.
Then there is the beauty on the right.  In the tech world we call it the Mona Lisa of cable management.  So if we can organize that many cables to look like that, say can you.  It will save you a lot of headache in the long run and just looks so much cleaner and neater.  A lot of people use zip ties, but we've found Velcro is ideal because it is easy to remove and move, but still keeps everything neat and secure.
Next we have the Software. You want to have a way to securely store your passwords and access your sites. Platforms called SSOs (Single Sign Ons) allow you to do this with password management and MFA (Multi-Factor Authentication). An SSO (Single Sign On) and password manager make keeping track of all your websites and applications easier and more secure. Once you log in completely, the rest of your logins to other sites can be set up and allow easier access. Instead of using the same password for all your logins and setting rudimentary, too-easy-to-remember passwords, use and SSO and password manager with MFA.
Terminal Services or having a Virtual Private Network (VPN) can provide protected access to confidential company data and files with the ease as if you were sitting there in your office.
A cloud-based communication collaboration system (like Office 365 & G-Suite) is a low cost solution that can go a long way.  They centralize all your remote capabilities, add a lot of value, security, and professional cache for a relatively low cost.
You can use office apps to collaboratively work on documents at the same time with colleagues. We find that O365 is more powerful and affordable for our means, but it really depends on what you are trying to accomplish and what your needs are.
Even though G-Suite is primarily web-based, you can also work offline if using Google Chrome and enabling file syncing and offline mail. O365 and G-Suite both include video conferencing and instant messaging software.  For Office 365, it's Teams, which includes instant messaging software.  For G-Suite, it's Google Meet. You can also collaboratively work on documents at the same time with your colleagues.
They add a lot of value for a low cost and your always up-to-date with the software over using the perpetual licensing for the app.
Distractions, like social media, games, etc., while working remotely can be a hindrance. There are apps and software available that can help limit those distractions.
Block your biggest, non-work related distractors with programmable screen time limits (mobile phone) or add-on apps for the computer. Rescuetime.com and Freedom.to offer automatic time-tracking and distraction blocking for multiple devices and operating systems. Built in Screen Time functionality on smartphones lets you limit time spent an any app and gives you a productivity report daily and weekly.
Business apps can give you analytics and productivity reports. O365 has built in automatic productivity reports that they send out weekly that tell you who your biggest collaborators are, when your most productive times of the day are, based on meetings you are in, emails you send, etc., and then what times you are able to focus most.
Bandwidth and internet speed are measured in megabits per second.  How much you need depends on how you use your network and how many things you have going on at once.
1 megabyte = 8 megabits; with a 1Mbps connection, it will take a 1MB file 8s to download.
Smart devices (security cameras, thermostats, TVs, etc.), streaming media, and browsing social media can add up. I put some ballpark numbers of how much bandwidth different devices or actions can take from your network.
Smart thermostats and outdoor home security cameras need 6 Mbps each. Uploading to social media or livestreaming requires 2-10 Mbps. Teleconferencing requires 2-15 Mbps. Streaming on a 4k TV requires 25 Mbps.
Running a speed test can give you some insight into your average upload and download speeds. Speedtest.net gives you average upload & download speeds. Fast.com gives you average download speeds only.
Make sure your router can handle the bandwidth you need. Ideal load is no more than 10 devices per access point. Wired ethernet is better if internet speed is your only consideration, and not mobility.
Teamwork makes the dream work and having that live office feel can be vital for people's productivity and sanity. Use a transparent, web-based, project management tool for the team to keep on task. We have daily stand-ups where the whole team meets virtually, plans out the day and then, as everyone works on and completing their tasks, it is transparent as each task moves from the WIP (Work In Progress) column to Review or Done. Having team online to do boards that are transparent (like Trello) has been supremely helpful in keeping everyone connected and on task for our team.
Use chat services, like Teams or Slack, to recreate quick, in-person check-ins. You can have private chats, group video, screen sharing, and more. Make your free/busy calendar available to your team and the full details of your calendar available to close team members.
Now we're on the most important section of the presentation which is cybersecurity and information security.  
We've unfortunately seen a huge uptick in cybersecurity attacks since the quarantines started.  Hackers have been capitalizing on people working from home in unsecured networks and with lax security policies.
Having a backup of your data is extremely important.  I cannot stress this enough.
Many cybersecurity threats, like ransomware, work best for the hackers when you don't have a backup or a way to get to your data if the originals are compromised.
Additionally, you want to prepare for issues if something happens to your computer, or your external harddrive physically, power surges, something happens to the building you have your data stored in, etc. You should vary your backups, by having them on and off-site, in the cloud and also physical and local backups.
Make sure you have an antivirus and security software that includes protection against ransomware and trojan horse attacks. 
The two we have pictured here, Sophos and eset, are heuristic-based, not just based on signatures and definitions but based on behavior of the files and programs that are running on your computer. That means they protect not by just scanning the files as they come in and then ignoring them (like some antivirus software does), but by continuously watching the files and detecting patterns based on previous attacks that have happened globally.
Make sure you have antivirus and security software that includes protections against ransomware and trojan horse attacks. Use a strong and complex password for your WiFi. Use multifactor authentication to get to your data. Make sure your computer requires authentication to log in. Even at home, lock your computer when you walk away and have the IT team set an auto-lock timer on all company computers.
Be extra vigilant when checking the details of a message, especially when there are attachments, links, or when the sender is asking you to provide information over email.
Check for spelling in the sender's name or email. If something seems out of the ordinary, follow-up with a phone call or video chat. Do not just reply to the email.
Adding your photo to your email profile may help recipients quickly identify that you are the legitimate sender easier.
Do not give anyone unsolicited access to your computer, even if they state they are from IT. Confirm and verify their identity and the need for access diligently.
Hackers get access to your data when they find vulnerabilities and loopholes.
Software updates and patches come out for a few reasons. To name a few:
Product improvements
A change in design
Fixing bugs
The last one is big for cybersecurity reasons because those bugs are generally vulnerabilities that allow access for hackers. An unpatched device is one type of vulnerability and can make you a target. Stay on top of system updates, software bug fixes,  and security patches. Managed IT service providers, like UOTech.co, ensure your data is secure, systems are up-to-date, and all tech runs smoothly.
Bonus Tech Tips: Keyboard shortcuts & gestures can help you do things faster or keep your windows organized. Some keyboard shortcuts that are quick are:
Lock your screen

MAC: Command + CTRL + Q
PC: Windows key + L
Organize your windows

PC:  Windows key + arrows keys will organize it into half screens or quadrants
MAC: Hold the green full screen button and then select to tile the window to the left or right
Get a timeline view

MAC: spread your fingers apart on the mouse pad
PC: Windows key + tab
Copy & Paste

PC: CTRL + C, then CTRL + V
MAC: Command + C, then Command + V
Music apps, like Spotify, offer ambient, mood, and nature playlists to help you stay focused and relaxed. Use dark mode, when you can, to save your eyes from strain.
Connect with us! Our social media details are all in the slide above. We post fun tips and information on all our social media pages and write helpful articles on our blog. We offer all the services that we spoke about in this presentation and much more. We feel really passionate that organizations of all shapes and sizes deserve access to high quality affordable technology services.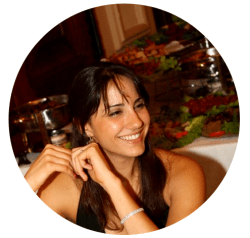 Shreena Bindra
co.Founder at UOTech.co
Shreena Bindra has over 15 years of experience in leadership and entrepreneurship in the Environment, Social Policy, and Healthcare verticals. She is co.Founder and President of UOTech.co, an employee-owned and operated, IT Consulting, Managed Services, and Information Security company based out of Long Island, NY.
--
For more information please reach out:
(516) 500-7789
[email protected]
Hackers are everywhere. They look just like you and me; you might see them in a grocery store, online at the pharmacy, or sitting at the table next to you at a restaurant, but you would have no idea of the capabilities they possess. By definition, a hacker is a person who illegally gains access to and sometimes tampers with information in a computer system. This means they have the talent to install viruses and malware that can allow them access to your personal information and the unauthorized use of your computer.
read more